Lately we have prepared for you a small polymer clay tutorial serie where you can learn to model 5 different flowers. These can be then later used for jewelry or for decorating mugs, photo frames, little boxes etc. whatever comes to your creative mind 🙂
Here are some flowers from the tutorial serie already finished as large statement rings, aren't they cool? 🙂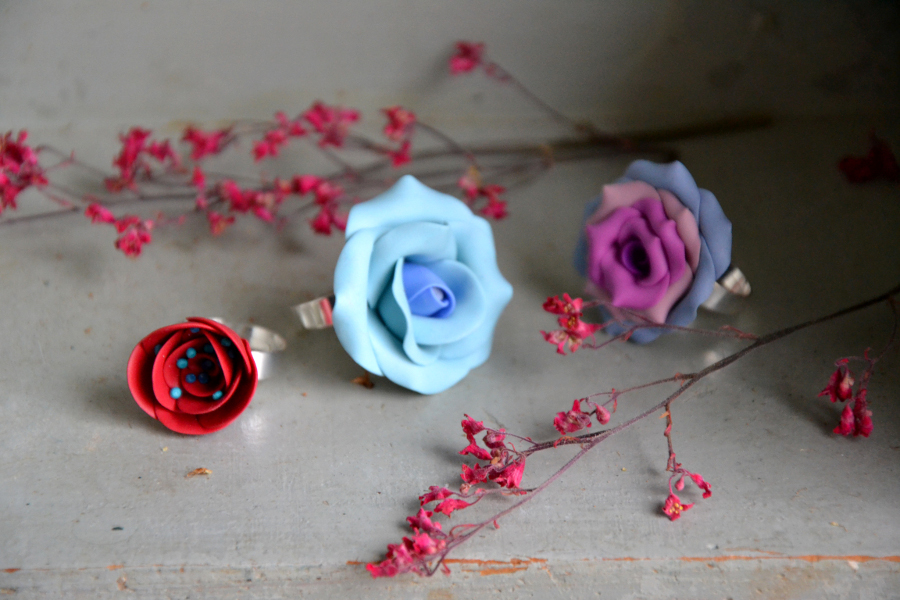 So let's have a look at the first tutorial, it's a rose.
In the second tutorial you will see little bit different kind of rose. It's great to be able to make variations, because in some final products, the flowers can be combined together in little groups and it's really cool if they are not all the same.
In the third tutorial you will see our triangular flower. In the end of the video we are also showing some further inspiration how the flower can be embellished and it's really worth trying!
Or you can try this little funky flower to brighten your day.
And the last one is a bit specific. It's a flower with dots. These dots are made from polymer clay as well and we think the effect is great, just have a look.
We hope you enjoyed this tutorial serie and found some inspiration for your projects. These flowers are our favourite thing specially because as singles they can make great earrings but they are also great in groups together.
Enjoy some further inspiration and have a bright and creative day!