We prepared this dreadlock beads tutorial for very specific group of people, and that is the people who have dreads or their creative friends. These beads are colorful piece of hair accessories or jewelry. With this tutorial everybody can make them on their own and express their own art and style, no previous experience with polymer clay is needed. Depending on the colors used, the designs are suitable also for men and women.
Learn how to make your own dread beads:
About the Dreadlock Beads Tutorial package
the package is constisting of TWO tutorials, so in the end you will be able to create your own dreadlock beads in two different styles :  Ethnic Dread Bead Design and Exotic Dread Bead Design
it is a pdf document consisting of 29 colorful pages full of step-by-step instructions, useful tips and more than 40 detailed photographs
no previous experience with polymer clay is necessary – this tutorial will guide you through the whole process as a complete beginner
in the end you will be able to design and create your own beads for you and your friends
Most importantly, we designed the tutorials in a way to minimize your costs of the whole project. We are using mostly normal household items, which you probably already have at home / or are very cheap. We assume you have an oven which you can use, because the polymer clay has to be cured in oven. What you will have to buy is polymer clay of your favorite color / colors. You can buy polymer clay online or in your local crafts store. For a start, definitely buy just the small packages. In my local crafts store one package of polymer clay costs 3,50 Eur (online it's always cheaper). There is definitely enough clay to make more than 10 beads.
Finally, what will you be able to create after completing the tutorials? We also offer you some inspiration for your future projects: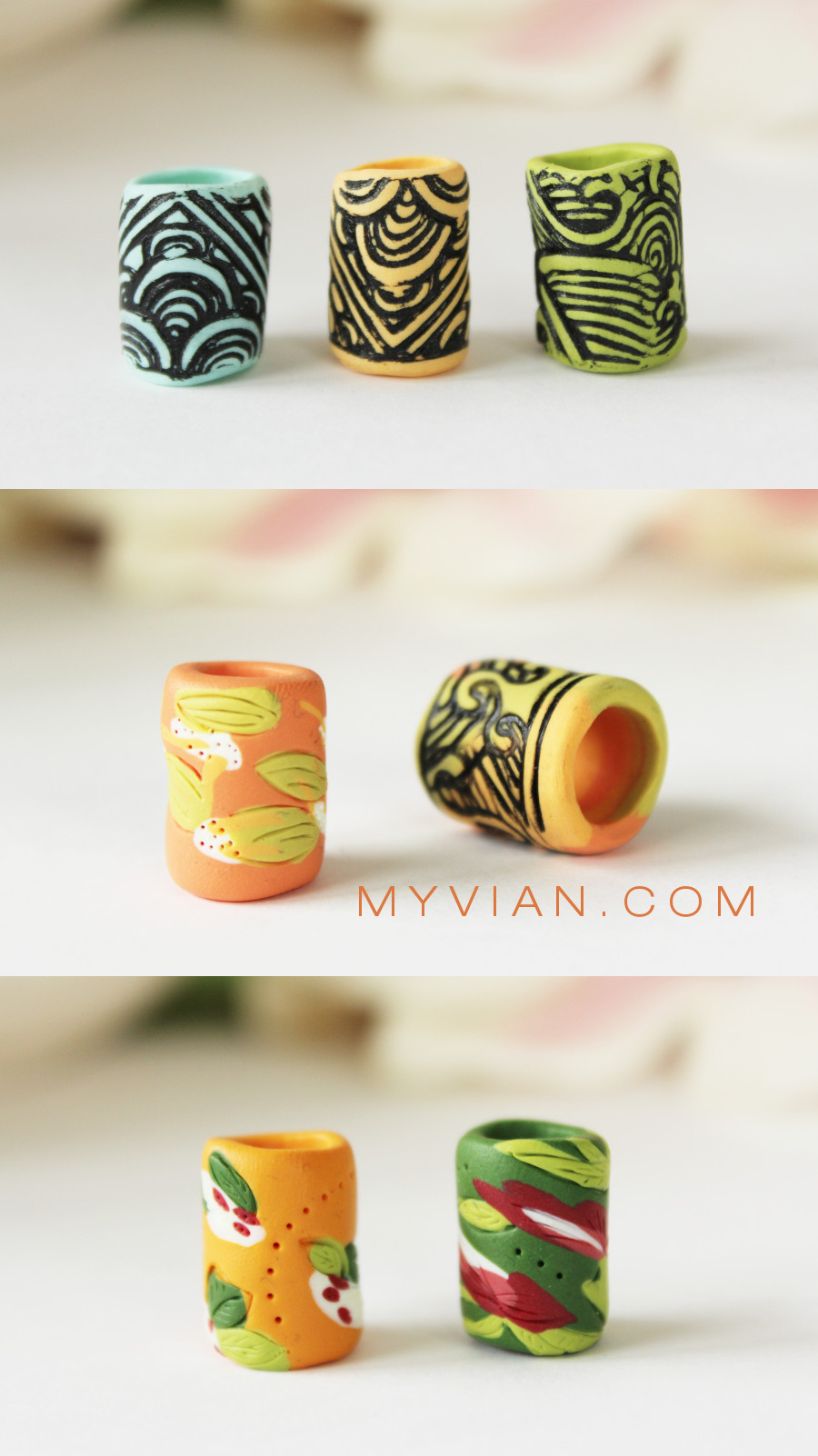 How the Dreadlock Beads Tutorial looks from the inside?
Certainly you want to know what the pdf looks from the inside. Here is a small preview. Check these few pages to get a clue how the instructions are written:
Save yourself all the trial&error hassle. Get the tutorial package and start making dread beads for you and your friends.
>>>The Dreadlock Beads tutorial package is in our Etsy store here <<<