This lovely earrings model is our very favorite polymer clay jewelry piece and it's the most popular design among our friends too. The design is very delicate and sweet. What we see as the main benefit of learning it is that it's very alterable. It can be romantic, boho, shabby chic or anything you want. It depends mostly on used colors and finish of the particular earrings. Many brides are buying the white version of these romantic polymer clay earrings for their big day 🙂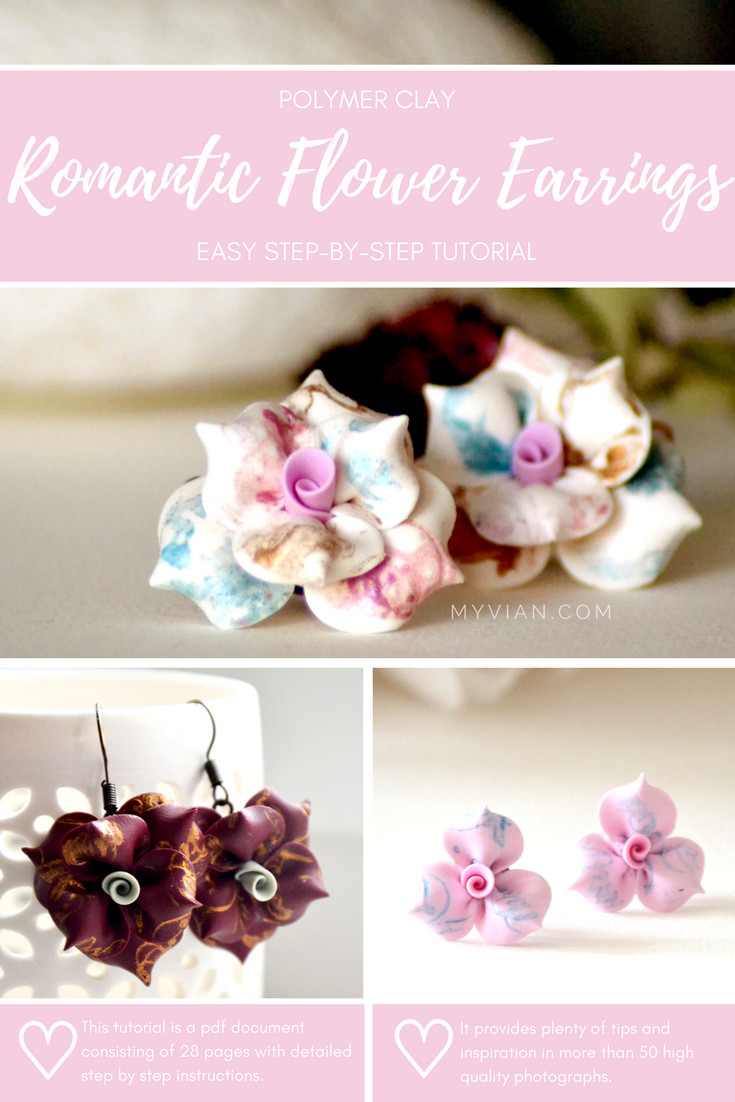 There is also a little secret or a two behind the technique. Many other polymer clay artists in our surrounding asked about how the design is made and we realised that it would be interesting to make it a step by step tutorial.
This tutorial is a pdf document consisting of 28 beautiful pages with detailed instructions, tips and more than 50 photographs. It provides lot of useful information and it will guide you step by step to succesfully finish your earrings. The acquired knowledge is going to come very handy for other creative polymer clay projects too. With a little bit of fantasy you will be able to create unlimited amount of designs with just varying the colors and maybe the shape. To help you get started we provide some inspiration in the tutorial as well.
Of course you need a slight insight about what to expect in our pdf, so here is a small preview:

The level is marked as easy, because we think everybody is able to create these earrings succesfully. The absolute beginners might need maybe some more tries to master the modelling technique, but eventually with a bit of determination, surely they are getting nice results – for all cases, we include tips inside 😉 Whether you are a complete beginner or already a bit experienced with polymer clay, this tutorial has something to offer you and definitely with this tutorial your way to the desired result will be much much shorter 🙂
Save yourself all the trial&error hassle, get the tutorial and achieve your desired results now.
 >>>The tutorial is in our Etsy shop here <<<
---
Are you a total beginner at polymer clay jewelry making? Check our beginners video course right here and learn how to make your own polymer clay jewelry.